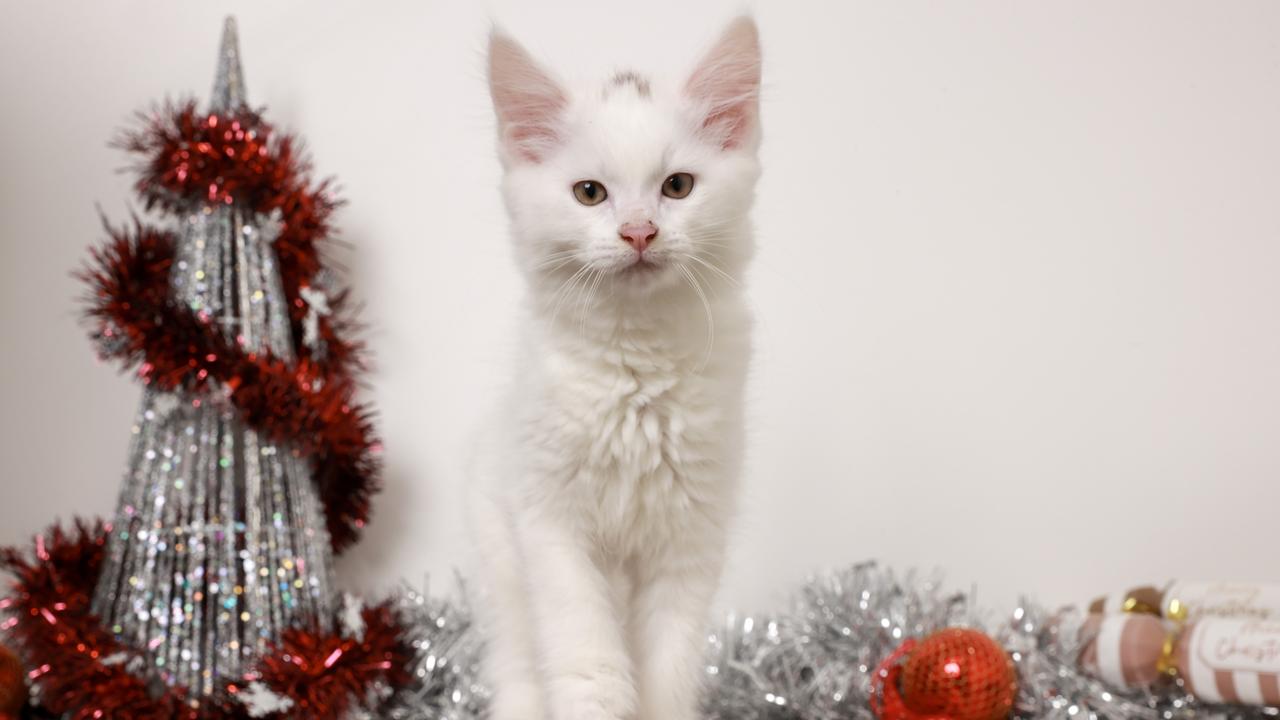 All 10-week-old kitten Momo wants for Christmas is lots of hugs from a new family and playing with the tinsel on the Christmas tree.
Momo is one of the abandoned animals that the Sydney Dogs and Cats Home is asking people to bring home this festive season.
The non-profit organization encourages anyone considering adding a pet to their family to choose a shelter rather than buying it from a store or breeder.
The RSPCA received nearly 95,000 abandoned pets across Australia last year, a figure that does not include the thousands of pets housed in local non-profit shelters.
Sydney Dogs and Cats Home is one of the few shelters in NSW that does not impose limits on the time an animal is kept. He also has a no-kill policy.
Tessa Miles of Sydney Dogs and Cats Home says that although many pets come from difficult circumstances, they are extremely gentle, affectionate and just want to be around people. Just like an 18 month old Boxer.
"He likes people petting him when they walk past his kennel and he likes to play," she said.
"He's such a sweet, gentle dog."
To adopt one of these adorable creatures go to https://sydneydogsandcatshome.org/adopt/
BOXER
Boxer is a big scowling lover – his wrinkled eyebrows don't do justice to his gentle nature.
He is a big boy who is still learning his life skills and needs continued training, so he would be best suited for a family that already has experience with large dogs.
The boxer is a bit of a goofball and would like to have a big yard to play in.
He loves his walks and being included in all activities.
DONUT
Donut loves to play with his toys and would love to have room in his new home to run around.
He is a smart cookie and was very responsive to training.
Donut would need an understanding family to give her the time and love she needs.
kawaii
Kawaii is a distinguished gentleman at age 10.
He is very curious and loves to explore, and is also happy to doze in his favorite places.
He loves treats and is very sweet and affectionate.
Kawaii will soon be available for adoption.
RALPH
Ralph is a smart boy! He has already mastered "sit", "down", "look", "stay", "come", "yes" and "paw".
He is super motivated by food, which makes it easy for him to train
Ralph is very loving and affectionate – his favorite things being hugs, kisses and belly rubs
Energetic and playful, he loves to play fetch, and with Kongs, rope toys and squeaky toys.
He enjoys relaxing by listening to meditation music, receiving body massages, and lounging on the couch.
Ralph is still a puppy and will therefore need continued training. This young man would suit most homes.
VADER
Vader is a confident young boy with lots of love to give.
He doesn't do well in kennels, so he'll need an understanding family who can give him some time in his new home to decompress.
He has a dog friend at the shelter, but would like to be the only dog ​​at home while he settles down.
He is very responsive to training and would love to go to dog training or someone who will continue to work with him.
MOMO
Momo is an adventurous kitten who loves to growl and tumble with her sister Cotton.
She can't wait to go to a home where she can explore, play, grow, and receive lots of love – and give love back.
BEAUTIFUL
Beau is a handsome boy with a very gentle and affectionate nature.
Beautiful would suit most homes.
He does, however, have a few health issues that his new family should have.
understanding of.
He's a great dog and he just needs someone to give him a chance!
ALTO
Viola is a cat with a beautiful nature, who has piercing yellow eyes.
This sweet girl loves hugs, scratches and treats.
Viola can't wait to spend some time in a forever home where she can lounge on the couch
and enjoy the company of his humans.
Sherman
Sherman is a carefree cuddly looking for a fun-loving family!
This clumsy boy is people-oriented and playful, and loves to play with his favorite squeaky toys.
Sherman is still learning to walk well on a leash, but he is a quick learner and eager to please.
He sure loves his treats, though, and his favorite thing is playing with the pipe!
Sherman would thrive in a house that would like to continue his training and maybe learn a few more tricks at home with you.
COTTON
Cotton is a sweet and friendly kitten. She is a little nervous at first when meeting people but soon becomes very friendly.
She loves to climb and play and will benefit from a home that gives her lots of abundance.
Mr Simba
Mr Simba is one of Sydney Dogs and Cats Home's longest-serving residents, having spent over 200 days at the shelter.
This lovely boy has come such a long way since he walked into the house, and now it's time for him to find his forever home.
Mr. Simba is a handsome man who would make a very loyal companion.
He learns new things very quickly and will be an excellent dog for training, games and games.
Mr Simba would prefer to live as the only pet in the household and would suit a family that is familiar with large dogs and their needs.
FLOWERS
Fleur loves the finer things in life – scratches and treats!
This young mom has been an amazing mother to her kittens and is now ready to enjoy luxury home living on her own.
Fleur will soon be available for adoption.
Do you have a topical tip? Email madeleine.power@news.com.au