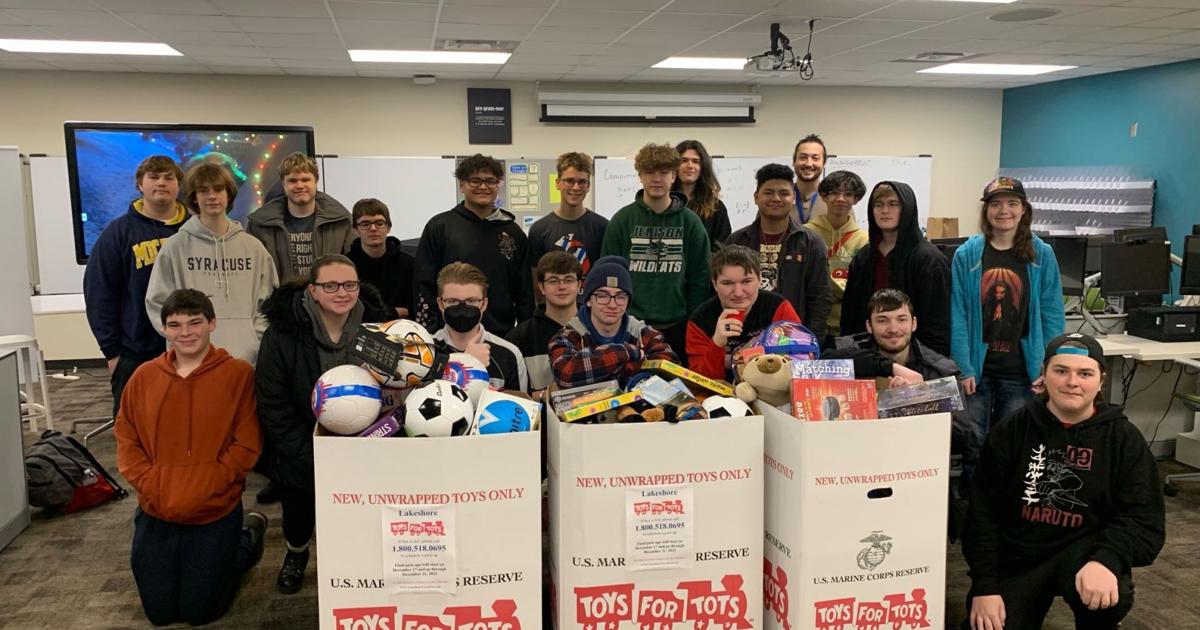 WEST OLIVE — For more than 10 years, students of the software and game development program of the Careerline Tech Center, a service of the Ottawa Area Intermediate School District, have been organizing and facilitating a Toys for Tots campaign as a community service project. This year they collected nearly 300 toys for local children.
"Each Tech Center program participates in a Career Technical Service-Oriented (CTSO) project, and in my first year at the Tech Center I was thrilled to continue this popular event as our CTSO project," said Emmanuel Martinez, the software and game development instructor for the Careerline Tech Center. "Walking around with the students collecting toys from other classrooms and offices, knowing we were helping others was a great way to get into the holiday spirit."
The Software and Game Student Leadership Team placed collectible toy boxes in the tech center classrooms, the front office, and the nearby OAISD Educational Services Building. The students were responsible for making and delivering motivational announcements, collecting and counting the toys, and then carrying the boxes of toys to the Lakeshore Toys for Tots pickup truck.
By facilitating the Toys for Tots campaign, students practiced key employability and leadership skills such as organization, professionalism, and communication while making an impact in their communities.
Lee Hoeksema, the Public Safety and Security Services (PSSS) instructor for CTC, said the majority of students in the program would describe themselves as service-oriented.
"We challenge them to do just that with Toys for Tots," he said. "It's in their hearts."
To buy as many toys as possible, the students organized a returnable can ride in November.
Ashley Seeley, a Zeeland West High School senior and member of the afternoon Student Leadership Team said, "We do service projects like this because this is what we do – we help others."