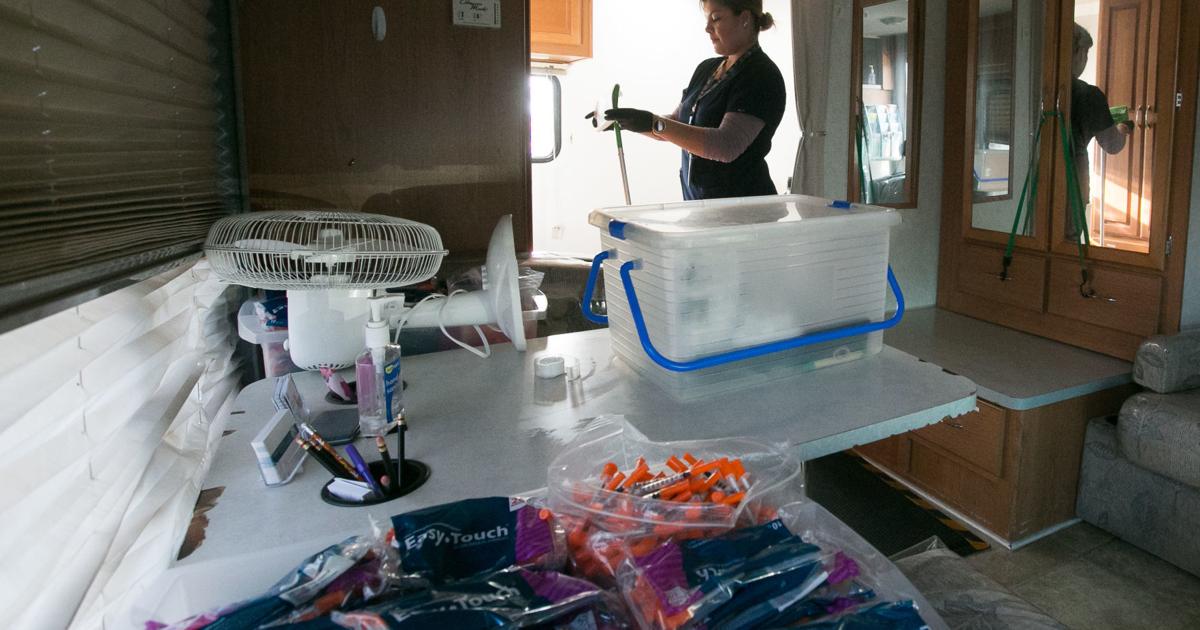 As the new year approaches, the management of the Yakima health district is aiming to return to form. After three years of focus on the COVID-19 pandemic, the health district enters 2023 with expanded staff and a renewed focus on many of its pre-COVID public health programs.
In 2022, the federal government provided the health district with nearly $15 million to help fund vaccination clinics, home testing, information campaigns, and the supplies and personnel needed to make it all happen. With many federal and state COVID programs down at the end of this year and early next, COVID response funding for the district has dropped to just over $800,000 for 2023.
To mark the transition away from COVID-19, $2.5 million from the state is being allocated specifically for foundational public health services. This will bring the 2023 budget to approximately $9.9 million, half of the $20 million budget for 2022. Pre-COVID budgets for the district ranged between $5 million and $6 million in 2017-19. Officials said next year's budget leaves room for growth and retention of staff hired over the past three years.
Ryan Ibach, the health district's chief operating officer, said the COVID-19 funding has allowed the district to increase its staff. Foundational funding for public health services partly allows the district to retain those staff, he said.
"On COVID, we got a lot of support from the state Department of Health," Ibach said. We were able to bring in contact tracing investigators. We also called in a whole team for the COVID. They have been divided to deal with businesses, schools, long-term care facilities and also to deal with vaccinations and testing.
Ibach said attention to the importance of public health has grown, opening up new avenues of funding like basic public health services.
"As for the lack of staff, I think that's something of the past, but now we are fully supported and able to recruit more staff," he said.
Specific numbers were not immediately available.
Ibach said funding is no longer available for large-scale COVID-19 vaccination efforts like those seen over the past three years with multiple vaccination sites operated daily by dozens of contractors.
The $800,000 in COVID funding will be used for an after-action report assessing how the district has handled the pandemic, as well as contact tracing and continuing education campaigns to help prevent the spread of COVID in the coming.
Lilian Bravo, director of public health partnerships for the district, said core public health services are a model for the most basic services a health district should provide.
"There are core functions within public health that are necessary for a functional and capable health service," Bravo said. "Actually, we didn't have an epidemiologist before we had COVID funding, but now with foundational public health funding, we're able to keep them available to do surveillance and provide reporting. ."
Bravo said the foundation funding for public health services is flexible and will allow the health district to continue to fund and expand many of its public health services. These include behavioral health, food access and harm reduction services such as needle exchange or naloxone distribution.
"Honestly, the biggest story is that we are going to have the infrastructure in place to be able to support these (programs) in the future. We have basic communications, basic assessment, we are expanding our STI (sexually transmitted infections) program. All of these initiatives require a lot of administrative support and now we have it," Bravo said.
While the health district has kept many of its programs running for the past three years, the COVID-19 pandemic has dominated staff time and funding.
Now, Ibach said, the health district can refocus on non-COVID public health efforts and add new programs it was about to launch in 2020.
"Before COVID, we were actually going in a direction where we were creating partnerships and expanding programs and getting the structure and staff in place, and now with basic public health services we are able to move to the next level," says Ibach. "Now we're able to expand initiatives and do things like test homes for high lead levels, do child death reviews, or if we want to look at gun safety. fire."
Melissa Sixberry, director of disease control, said in 2023 her department will primarily focus on substance abuse, substance abuse and the spread of STIs in Yakima County.
Specifically, she said she wanted to focus on spreading syphilis and increasing the number of cases of congenital syphilis, or cases where babies are infected with syphilis during childbirth.
In late October of this year, the health district hired Alexis Millet, a public health nurse, to help with syphilis control efforts. It came after cases rose 326% last year, from 50 in 2020 to 163 in 2021.
As 2023 approaches, Ibach said the health district is now more experienced and better equipped to handle the public health issues that have spread and grown during the pandemic. These include the spread of STIs, an increase in overdose deaths, and increased demand for behavioral and mental health services in Yakima County.
He also added that while COVID funding is lower, district staff and partners now have the experience to manage the spread of the virus much more effectively if cases start to rise again next year.