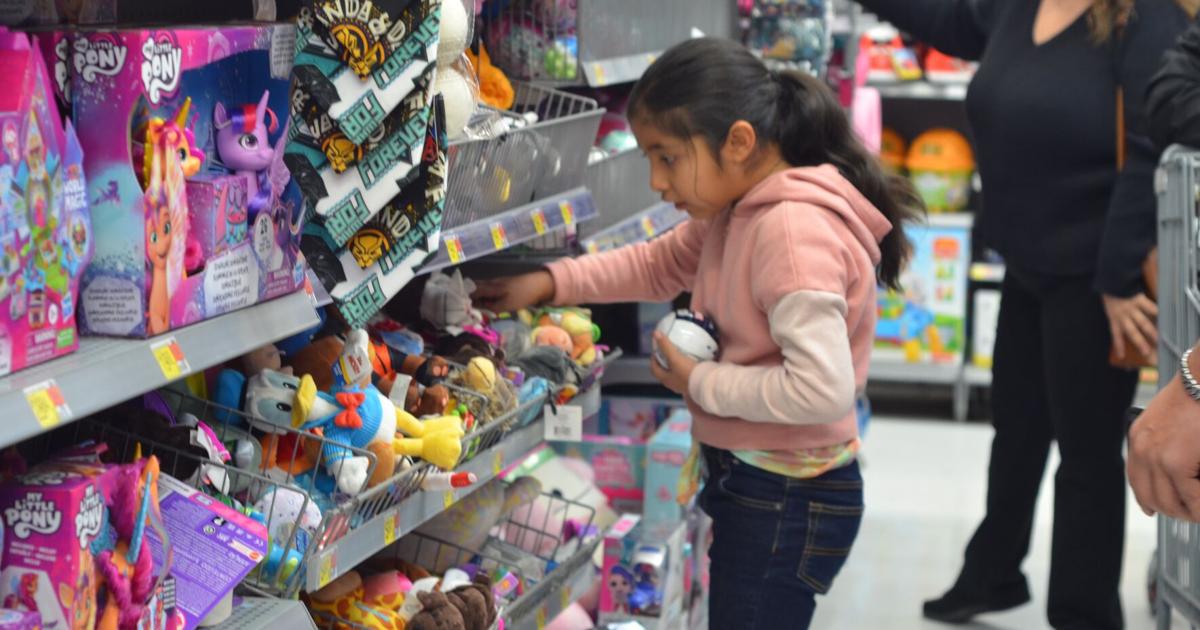 The kids ran down the aisles of Walmart at 1610 N Riverside Dr. as they picked out gifts for the Shop with a Cop event on Wednesday.
Española Police Department Chief Mizel Garcia said 105 children participated in the event and each child had a soft limit of $100 to spend on whatever they wanted.
Funds for the event were all donations, and Garcia said $10,700 was used that day, with $2,000 remaining to be used for next year's shop with a cop. Garcia said some of the donations for the event came from a fundraiser for the Frito Pie Dinner that took place Dec. 21. 7.
Garcia said several different emergency response agencies participated, including the Española Police Department, Rio Arriba County Sheriff's Office, New Mexico State Police, Española Fire, Rio Arriba County Probation Department, and Santa Clara Tribal Police. He hopes to title next year's event "Shop With a Public Safety Officer" and invite more emergency response agencies.
"We hope to raise at least as much as we had this year," Garcia said. "We've got a good head start on next year. We've got just over $2,000. My ultimate goal is that every year I'm here – because in the past it was around $60 per kid. …my goal is to provide everyone with at least $100."
The kids spent it all with their $100, some of them filling their carts with as many toys as possible, while others bought a few more expensive items.
Allison Hernandez, 7, from Española, said her favorite toy she chose was a Puppycorn rescue surprise because "it's big and huge".
Hernandez could barely contain her excitement as she admired the toy and said, "I have to break it."
The children who participated in the event were chosen by several different agencies who chose those they felt were most in need, according to Garcia, and the entities involved included Española Public Schools, Las Cumbres and the program for women, infants and children in New Mexico.
"We did our best to make sure the kids who needed it most were the ones who got it," Garcia said.
Each chosen family was paired with an emergency responder, who then followed the kids as they excitedly ran through Walmart to choose their presents.
"I saw many kids jumping for joy because they had no idea what they were going to get," Garcia said. "Just to see the smiles on their faces and what they bought. It reminds agents that we serve the community and are capable of giving back. We are part of it and these children see us in a different light. I think that's the most important thing."
Garcia said opening an additional cash register would have made waiting for departure quicker, but the long line allowed officers to spend more time with the families they were matched with.
"I know a lot of kids don't see a lot of positivity with law enforcement, especially if they're part of a family situation. It's good for them to see that we're not always there for the bad, we're there for the good too," said Tania Donahue, records specialist with the Española Police Department.
Donahue has helped organize the event in the past for years, and she said her favorite part was helping all the kids. She said the event has happened for at least the past seven years.
"We weren't Santa Claus, but we helped round out Santa Claus this year, which was good for me," Garcia said.
Donations for local children have continued to come in, according to Garcia, who said a man donated several children's jackets at the event, and several other people have attempted to donate since.
"I still have people calling me today, actually, and telling me they want to donate to us, and I tell them it's for next year, but they just say… 'We want to give now, we want to give,' he said.
Garcia works with local agencies to ensure children in need receive these donated items.