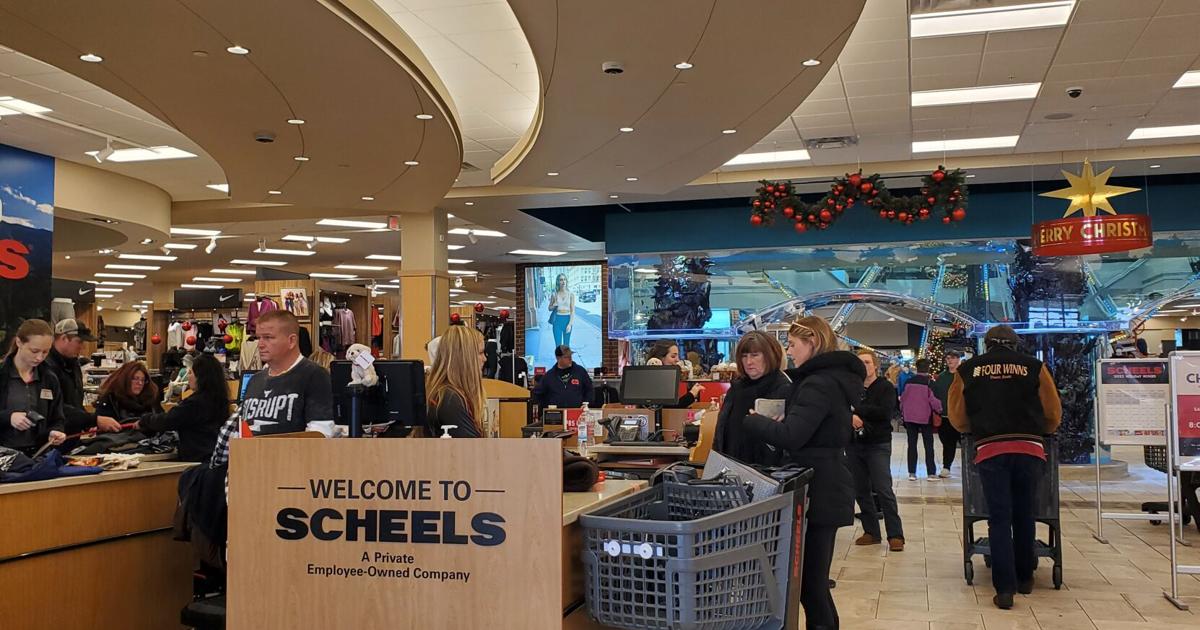 Thursday's outburst of arctic weather may have shocked Coloradans with sub-zero temperatures, biting wind chill readings and treacherous driving conditions, but many of them bundled up and hit the stores.
According to the National Weather Service in Pueblo, temperatures are expected to rebound over the weekend, with temperatures in the 40s and 50s on Saturday and Sunday, respectively.
"It's going to be a great weekend, especially after all this cold weather," said meteorologist Kyle Mozely.
But with just three days of shopping until Christmas, some Colorado Springs residents decided they couldn't afford to waste a day. Other longtime residents, having seen their share of frigid days, weren't impressed at all despite a high temperature of 1 degree above zero.
Crowds were thin at The Citadel mall, but arctic temperatures and snowy roads didn't stop some dedicated shoppers from their holiday missions – and others spinning "doughnuts" in parking lots.
VaLeene Heitfeld walked down from Tranquil Acres outside of Woodland Park with her sons Ezra Herdlicka, 8, and Dylan Herdlicka, 3, so they could visit Santa and keep the tradition alive. Ezra had a long wish list, Heitfeld said.
"There's one thing on my Christmas list that I forgot to tell her I wanted. …I wanted to get my grandma a Roku TV," Ezra said.
Ezra also hoped his sister, Kayla, who recently moved to Colorado Springs, would also see Santa Claus.
Several shoppers – including Ben Maestas, who came to the mall to hang out with his girlfriend, and Amanda Resendez, who was shopping last minute – said they actually expected the weather to be worse.
"It wasn't as cold as we thought (it would be)," Resendez said.
At Walmart and Target stores on the north side of Colorado Springs, parking lots were nearly full and shelves in some electronics and toy areas were nearly empty.
"It's been very busy today," a Walmart employee remarked.
With several businesses and services closed due to extreme weather conditions, many residents found themselves with an unexpected day off.
"I'm actually really enjoying the cold weather," said William, who declined to give his last name. "Since I have the day off, I figured we'd come over for some last-minute shopping."
Lingering snow along Interstate 25 and the InterQuest Parkway didn't deter the mix of shoppers who stopped in Scheels Thursday to pick up their last holiday gifts or bring home some goodies.
As a born and bred Coloradan, Cami Beatty wasn't put off by a mild cold, she said, showing off her electric heated jacket.
"When I woke up and saw the sun was up, I thought people were going to be outside today," Beatty said, adding that she wasn't surprised to see a crowd.
At the Mackenzie and West clothing and gift store on West Colorado Avenue, owner Glynis Hartwig said dire severe weather warnings likely played a role in sparser-than-usual sidewalk and road traffic in Old Colorado City, a traditionally bustling promenade of storefronts. on the west side of town.
"I think the biggest problem with the weather is that the reports scared everyone off," she said.
Gazette reporters Stephanie Earls, Breeanna Jent, Mary Shinn and Zachary Dupont contributed to this story.