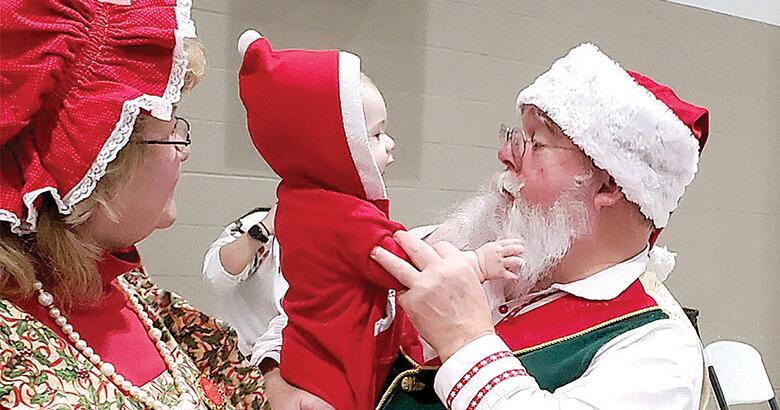 The De Soto Knights of Columbus Little Elves Program recently provided approximately 230 children with a variety of gifts for Christmas, including blankets, coats, hats, gloves, slippers, pajama pants, personal care products, toys, candy, bags of fruit, and Lake. said Vicky Moss, co-chair of the program.
Children received the gifts at the Little Elves' 10th Annual Christmas Event, held Dec. 3 at De Soto's KC Hall.
"This is a day when they can forget about everything and just be a kid and be happy," Moss said.
The event included breakfast, games and a visit to Santa and Mrs. Claus. The KC Clowns were also present, Moss said.
She said volunteer Tammy Schrand gave kids free haircuts, which was so popular that kids were willing to wait in a long line to receive them.
"Some of these kids only get a haircut once a year," says Moss. "I hope to get someone else's hair cut next year. It was really a big thing. For the children it gives a good feeling to have their hair cut professionally. They look good and feel good."
The children who attended the event were from local needy families who were referred by either the De Soto Food Pantry or Athena, Vineland, De Soto Junior High, Kingston or Richwoods schools, Moss said.
She said one family received an air hockey table, a few families received a swing set, and about 50 children received a new bicycle.
Moss said the event started 10 years ago in the back of the De Soto Food Pantry with a wrapped gift for each child. Over the years, the program has grown, allowing the Little Elves to serve more children and give more gifts.
Moss said she raised money for the event by selling pies every Tuesday night from October through March at the Knights of Columbus' weekly shooting competitions.
She said the Little Elves also receive donations from members of the Knights of Columbus and others.
Moss said a De Soto-based group called We Got Six also helps by collecting toys and donating them to the Little Elves.
She said the We Got Six group already started collecting for next year's event outside the De Soto Walmart last weekend, and Kim and Mike Pazdera of KA Pazdera Hauling and Excavating of the Festus area borrowed the trucks from the group to use for collection.
Moss said the event also benefits from volunteers.
"Bill and Lisa Polley have donated their time to us for years to play Mr. and Mrs. Claus. Bill and Lisa have brought so much joy to the kids," Moss said.