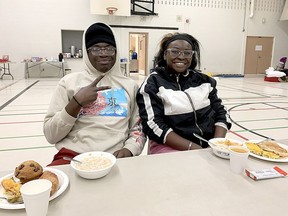 Content of the article
Chatham-Kent residents stepped in to help hundreds of travelers stranded by a severe winter storm that forced police to close roads and highways, including a long stretch of Highway 401 for about 30 hours.
Content of the article
Local schools, churches, businesses and homeowners opened their doors to welcome strangers, many of whom had no choice but to abandon vehicles stuck in the blowing snow.
Content of the article
Shannah Antwi and her brother Kelvin were having breakfast Saturday morning at Chatham Christian School after being stuck in their vehicle on the 401 for hours.
The Cincinnati residents were traveling to London when their vehicle got stuck early on Friday.
"We were turning the car on and off trying to conserve gas, but it was quite cold," Antwi said.
Four hours later, local firefighters arrived and took them to the school.
"We didn't know who it was at first," Antwi said of the firefighter knocking on their vehicle window. "We were a little nervous."
Content of the article
The two travelers were relieved to finally arrive at school.
"It's good that they're doing this for people who are stuck," Antwi said.
Hundreds of travelers were stranded in Chatham-Kent by the storm, which sent temperatures plummeting and whipping snow with strong gusts of wind. Police closed the 401 on Friday morning between Tilbury and London following a series of crashes, including one involving 12 vehicles. The highway was reopened late Saturday afternoon.
Chatham-Kent pulled plows off the road Friday afternoon because blowing snow reduced visibility in rural areas to near zero. The municipality declared a state of emergency later Friday and called on residents to offer rooms in their homes to dozens of travelers sheltering in arenas in Tilbury and Ridgetown.
Content of the article
Mike Hoogstad, who spent the night volunteering at Chatham Christian School, estimated around 60 travelers spent the night there.
A team of volunteers worked together to organize meals, set up tables and chairs and lay out gym mats for people to sleep on, he said.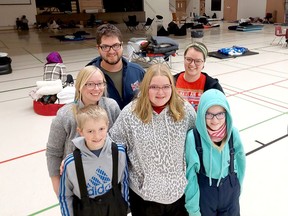 Joel Hoekstra's family also answered the call for help. After the school principal was contacted by provincial police about opening the building to house stranded travellers, a text message was sent looking for volunteers.
The Hoekstras lived near the school and decided to help.
Hoekstra's 13-year-old daughter, Hayley, was happy to be there.
"It feels good to help people," she says.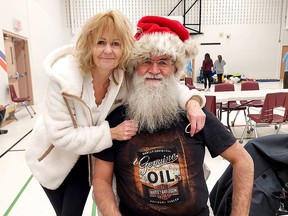 For Walter and Paddy Janzen, the ordeal began when they decided to travel to visit family in Dresden after spending much of Friday in Chatham.
Content of the article
The Ancaster couple "ended up sinking in deep snow" on Prince Albert Road and "couldn't go anywhere," Walter Janzen said.
A would-be rescuer also got stuck in a ditch on Caledonia Road, which required a four-hour wait before he was able to get back to his own vehicle and, with help, pull it out of the snow.
On their way to the Christian school for safety, they got stuck a third time while driving down a nearby street.
Finally arriving around 3 a.m., Walter Janzen said organizers were "wonderful" for providing the space for weary travellers.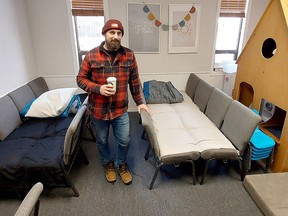 The Maple City Baptist Church on Indian Creek Road in Chatham also received stranded travelers overnight.
Dan Christiaans, an associate pastor, said an OPP officer who attends the church informed him that Highway 401 was closed, "so there might be an opportunity to help." .
Content of the article
People started arriving around 8 p.m. Friday and about 40 people eventually stayed for the night, Christiaans said.
Most people were from out of town, he said, including one family from Kansas while many families were trying to get to Toronto or Windsor.
"We had people from church bringing soup and banana bread and all kinds of food," he said.
Volunteers also showed up to make hot chocolate and arrange makeshift beds with padded chairs.
Anya Martial, a truck driver from Windsor, was feeling the heat as she arrived at the church that evening after being picked up at the nearby Bloomfield Truck Stop.
"I was very grateful, thankful . . . It was starting to get cold," Martial said.
She described her night at church as "awesome".
Content of the article
"I was fed, warm, comfortable and slept well," she said.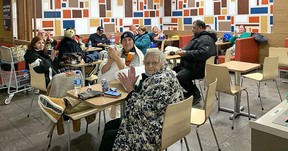 The Walmart store in Chatham also welcomed several people stranded by the storm.
"At Walmart, we pride ourselves on helping customers get their homes ready for the holidays, but on Friday, for a group of around 50 customers, our Chatham store became a holiday home when road closures took them away. left stranded overnight," Walmart says Felicia Fefer.
Our Store Manager, Judy Lagasse, aAnd his team of elves swung into action, blowing up air mattresses and turning the storefront into a warm place to sleep. Our deli team served a hot dinner and games were removed from the shelves to keep customers and their children calm and entertained.
Content of the article
There was even an impromptu birthday party for an employee at midnight, complete with cake and candles, Fefer said.
"Our clients were fabulous athletes; they were singing Christmas carols to keep their spirits up! »
Chatham resident Bobbie Morton, who spent the night at the store while living nearby, posted on social media: 'Well I have to say Walmart is having a devilish slumber party!
She also posted that there was a "large group of humans laughing, joking, sharing family stories, photos and staying up all night."
Morton praised the store manager and employees, adding, "We're all very grateful."